Please Allow Us
To Help You
480-840-9100
Mr. Jim's offer's financing for all type's of credit, We finance first time buyer's and those of you who have had hard time's credit.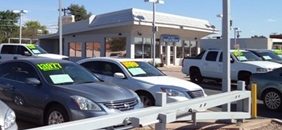 480-840-9100
We have a great selection of used car's and truck's from $3,995 to $19.995. We specialize in vehicles below $12,000 with a pride in ownership. We can fulfill your every auto desire, if you do not see the vehicle you want please come in and we will get that car for you. We will not be beat on any of our prices!! Before you sign the dotted line anywhere give us a try or we both lose money.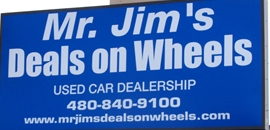 When you come in you are helped by a young man that will not pressure you only help you to find the car that will fit your want's and need's, no pressure is going to be placed on you. We can assist in any of your financial need's , good credit, medium credit , hard time's credit or even no credit. Please allow us to help you.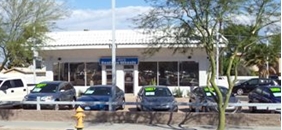 Our sales and servics department's are available to help you with all your automobile needs. Feel free to come by the store any time to meet us in person. Javier in service, Bo in sales, Javier Jr. our Sales manager and Bob K. our General manager. We invite you to enjoy a pressure free car buying experience.
contact us at : bobk@mrjimsdeals.com